If there's anyone who knows the hardship of life, it is none other than Emmanuel Amoah. Though many in his small settlement of Donkorkrom may recognize his face, only few take the time to sit and talk with him – and that could certainly change if Amoah turns out to be the next winner of Biggest Liar in Ghana!
At the age of 54, he has seen the progression of his village and watched as the children of his town have grown and had children of his own. He has made friends, lost friends, and attended the weddings and funerals of those he's grown close with during his time in his settlement.
He is a quiet, friendly face, and though many mistake him to be a lonely man, he is far from it.
Emmanuel Amoah: village elder, football fan, and most importantly father, explains what he would do with his prize earnings.
The Man Everyone Knows
Donkorkrom locals recognize Emmanuel from his daily walks around the town. He is never seen sitting, lest it's to enjoy the food at Awonye Chop Bar. When he's not treating himself to local cuisine, he's constantly on the go- and he notes that his long life is mainly in part to allowing himself to eat what he wants and because he never sits for long.
So, he will walk- into neighborhoods, shops and markets, or anywhere he can. He notes that there is no shortage of things to see, even if he's in places that he has been a million times before. He is a man of optimism and positivity, and as one of the village elders, people liken his presence to that of warmth and comfort.
In spite of that, only a handful of locals ask around about him, or take a moment to talk to Emmanuel about his life in Donkorkrom.
Who That Man Is
If they did take a moment to talk to him, they would find out that Emmanuel is a man with a rich history. In spite of the lines on his face and the wrinkles by his eyes, there was a time when Emmanuel was as youthful and spunky as the young adults in the settlement. He had dreams and hopes just as any young man does.
His main dream was to be a football star- and Emmanuel jokes that even now, in his current age, he may still have a chance. There was never a time when he would be seen without a ball tucked under his arm, searching for an empty lot or two to practice.
When he was in his thirties, he met a woman who he tells us "was the girl of his dreams". Her name was Efia, and though he and her never formally married, they did live out their lives together until her unfortunate passing five years ago.
"We had the happiest life," he says to us, over a plate of Hausa Koko, "She gave me my sons, and I still see her in their faces today."
And it is true. His three sons, all grown, sit beside him- and though they share their father's nose and smile, their eyes (proven by a picture that Emmanuel keeps in his breast pocket), are all their mom's.
His boys, Osei, Minkah, and Jojo, share their father's love for football- and have a shared love for Ghana football team midfielder Mohammed Kudus. Though Emmanuel cannot play on his own anymore due to his age, he finds the greatest joy in watching his sons play on the same lots he used to play on- and yearns for happiness and peace in all their futures.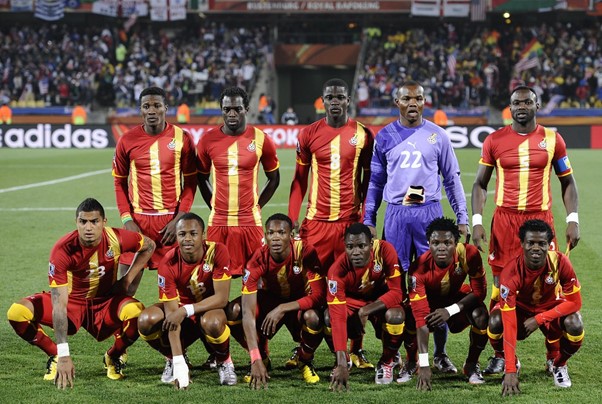 If He Wins
A father's love is unlike any others, and one of the biggest regrets that Emmanuel has in his life is that his love wasn't enough to give his boys the life that they deserve.
"I grew up poor. My family did." he says, smile faltering a bit as his children start down the road on their way to dates, work, and other engagements, "I don't want them to feel they can't have a better life. I don't want them to feel stuck."
With prize earnings, most people wouldn't think twice about splurging on themselves. Emmanuel, however, is crystal clear about what he would do if he won.
"It would go to them," he smiles, without a hint of irony in his voice. He goes on to explain that he would leave it to his kids in his will- as his way of saying thank you for letting them be his father, "They deserve it. They have always deserved it."